Sadie Hosley MA, LADC, LPCC
Community Relations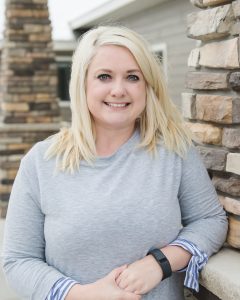 Sadie leads the charge in connecting Recovering Hope's program and services with professionals, caregivers, and clients seeking specialized care. Sadie has extensive experience in connecting the community with resources that meet the needs of those seeking help. Sadie has worked in the field as an addiction and mental health provider at various settings, admissions, intensive outpatient services, utilization review, residential treatment settings and behavioral psychiatric hospitals for the past nine years. Sadie's passion is to help those in need find services which meet their individualized needs and access the level of care they require. Her energy for life exemplifies one of our themes at Recovering Hope, "The Spirit to Live."
Janet Wilkinson, MS, APRN
Adult Nurse Practitioner-BC Medical Director
Janet leads our medical team which provides on-site services. She received her bachelor's degree from the Milwaukee School of Engineering (Bachelors of Science in Nursing) and a Master of Science degree from the University of Wisconsin, Madison (Adult Nurse Practitioner Program). Janet began her career in health care within the Intensive Care Unit of a large metropolitan based hospital in Milwaukee, WI. In addition to her extensive inpatient, adult clinical experience, Janet has worked with patients of all educational levels, cultural diversity, socio-economic status and those with chemical dependency and mental health related needs. She utilizes evidence based research, medications if warranted and complimentary therapies to treat physical, mental and psychiatric/co-occurring health disorders.
Janet will maintain her Adult Nurse Practitioner certification as she begins her coursework toward a Doctorate of Nursing Practice with certification in Psychiatric Nursing through the University of Minnesota in September 2017.
Beth Good, DNP, APRN, CNS-BC
Psychiatric Treatment Director
Dr. Good has been a psychiatric nurse for the past 28 years and has specialized in prescribing psychotropic medications for the past 16 years.  She provides psychiatric medication management and psychotherapy/health counseling to her clients and, as needed, their families and focuses on the assessment and treatment of mental illness in persons with substance use disorders.
Dr. Good received her Doctorate of Nursing Practice at the University of Minnesota, specializing in psychiatric mental health nursing- a Bachelor of Science in Nursing from Mankato State in 1988, and a Master of Science Degree in Nursing from Georgia State University in 1994.  Dr. Good taught undergraduate and graduate nursing courses at the University of Minnesota School of Nursing for five years, was a nursing supervisor at Hazelden Foundation for five years, worked as a charge nurse of an inpatient medical/psychiatric unit for five years, and has also worked in various Community Behavioral Health Hospitals throughout MN. For the past 14 years, she has served as the Clinical Lead in Psychiatry at a Family Service Agency which services a five county region and has worked diligently at integrating behavioral health services into primary care clinics.
Darci Wikelius MA, LADC, LPCC
Clinical Therapist
Darci joined Recovering Hope Treatment Center as our first mental health therapy provider in October 2016. She became a chemical dependency counselor in 2009 and a mental health therapist in 2012, as she focuses on the co-occurrence of disorders.  Darci has worked in a variety of areas including intensive care for children with Autism, sex offender treatment for developmentally disabled adults, substance use assessments for individuals committed as MI/CD, and sex offender specific treatment at the Minnesota Sex Offender Program and within the Department of Corrections, Sex Offender Assessments.  Her passion is assisting individuals in finding value and meaning in their lives, particularly in addressing areas surrounding relationships, sexuality, and self-worth. Darci is also a Board Certified Supervisor and provides licensing supervision to individuals seeking LADC or LPCC licensure at RHTC.
Currently, Darci is attending Minnesota School of Professional Psychology as she works towards her Doctoral degree in Clinical Psychology. Darci lives in the Mora area with her husband and two small dogs.  Her youngest dog is a certified therapy animal and frequently assists her in individual therapy with clients at RHTC.
Nicki Miller
Daycare Director
Nicki is passionate about creating a safe, nurturing, educational environment for the children at Recovering Hope. Nicki works closely with the daycare staff and the counselors to provide support to mothers and children during their transition to Recovering Hope. Nicki works with Occupational, Speech and Physical therapist to provide those services to children within our facility.
Nicki's education includes an Associated Degree in Early Childhood Development, training for working with children with trauma and special needs along with continued professional development courses.