Carmen Finn, "Finn" MA, LADC, ADCR-MN
Clinical Director

"Finn" is the Clinical Director at Recovering Hope Treatment Center. She has over eighteen years of experience providing services to families and individuals in the field of behavioral health. Finn is licensed as an alcohol and drug counselor in the State of Minnesota and obtained her Master's in Marriage and Family Therapy.  Additionally, Finn is a Community Faculty member at Metropolitan State University and teaches in the Alcohol and Drug Counseling program. Finn is also a member of the Minnesota Association of Resources for Recovery and Chemical Health (MARRCH) Ethics Committee, as well as an elected member of the MARRCH Board of Governors for Region 11. Her interests include gender, ethics, research, LGBTQ issues, and addiction and the family. 
Sadie Hosley MA, LADC, LPCC
Community Relations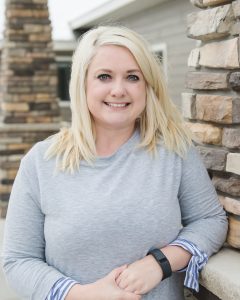 Sadie leads the charge in connecting Recovering Hope's program and services with professionals, caregivers, and clients seeking specialized care. Sadie has extensive experience in connecting the community with resources that meet the needs of those seeking help. Sadie has worked in the field as an addiction and mental health provider at various settings, admissions, intensive outpatient services, utilization review, residential treatment settings and behavioral psychiatric hospitals for the past nine years. Sadie's passion is to help those in need find services which meet their individualized needs and access the level of care they require. Her energy for life exemplifies one of our themes at Recovering Hope, "The Spirit to Live."
Janet Wilkinson, MS, APRN
Adult Nurse Practitioner-BC Medical Director
Janet leads our medical team which provides on-site services. She received her bachelor's degree from the Milwaukee School of Engineering (Bachelors of Science in Nursing) and a Master of Science degree from the University of Wisconsin, Madison (Adult Nurse Practitioner Program). Janet began her career in health care within the Intensive Care Unit of a large metropolitan based hospital in Milwaukee, WI. In addition to her extensive inpatient and outpatient adult clinical experience, Janet has worked with patients of all educational levels, cultural diversity, socio-economic status and those with chemical dependency and mental health related needs. She utilizes evidence based research, medications if warranted and complementary therapies to treat physical, mental and psychiatric/co-occurring health disorders.  Janet also specializes in substance use disorder relapse prevention medication treatment including buprenorphine/naloxone (Suboxone) and long-acting injectable naltrexone (Vivitrol) for both relapse prevention and harm reduction.
Janet will maintain her Adult Nurse Practitioner certification as she begins her coursework toward Doctorate of Nursing Practice with certification in Psychiatric Nursing.
Darci Wikelius MA, LADC, LPCC
Clinical Therapist
Darci joined Recovering Hope Treatment Center as our first mental health therapy provider in October 2016. She became a chemical dependency counselor in 2009 and a mental health therapist in 2012, as she focuses on the co-occurrence of disorders.  Darci has worked in a variety of areas including intensive care for children with Autism, sex offender treatment for developmentally disabled adults, substance use assessments for individuals committed as MI/CD, and sex offender specific treatment at the Minnesota Sex Offender Program and within the Department of Corrections, Sex Offender Assessments.  Her passion is assisting individuals in finding value and meaning in their lives, particularly in addressing areas surrounding relationships, sexuality, and self-worth. Darci is also a Board Certified Supervisor and provides licensing supervision to individuals seeking LADC or LPCC licensure at RHTC.
Darci is currently attending Minnesota School of Professional Psychology as she works towards her Doctoral degree in Clinical Psychology. Darci lives in the Mora area with her husband and two small dogs. 
Marvel Wikelius, Shih Tzu
Certified Therapy Dog
Marvel (aka Marv) is a 5-pound Shih Tzu who is a certified therapy dog through Pet Partners and United States Animal Registry. He loves playing with his older brother (Brodie, Shih Tzu), going for walks, and snuggling on the couch. His favorite place to be is at RHTC with his mom.  At RHTC he gives lots of hugs, kisses and brings a sense of peace and calmness to any room he enters.
Jamie Bankers,  MA, LADC, LPC
Director of Recovery Support
Jamie received her Master of Art's degree in Addiction Studies from Hazelden Betty Ford Graduate School of Addiction Studies and a Bachelor of Science in Psychology from Capella University. As the Director of Recovery Support, Jamie is responsible for managing and directing the activities of the Recovery Advocates and admission team. Jamie also provides individual psychotherapy to clients. She is EMDR trained and implements EMDR protocol to assist clients in addressing trauma, anxiety and other mental health symptoms.
Originally from Kimball, Minnesota, Jamie now resides on a hobby farm in the Mora area with her husband and their six children. Away from work, Jamie enjoys spending time with her family, attending children's sporting events, throwing hay bales, and tending to her animals.
Brittney Hancock, BA, LADC
Primary Counselor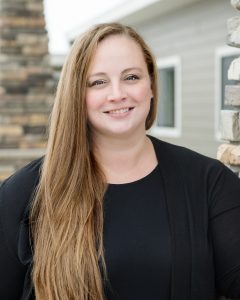 Brittney is passionate about empowering women and mothers to achieve the goal of recovery.  Having experience in multiple treatment centers and positions prior to this, Brittney cherishes the healing atmosphere at Recovering Hope.  her enthusiasm and excitement for growth in our clients fuels her goal of building shame resilience within the community of recovery as a whole.
Brittney received her education through the University of Minnesota.  Brittney grew up in a town closely neighboring Mora, and loves the small town connection in both communities.  Brittney enjoys gardening, crafting with her daughter, holistic health with essential oils, and glitter!
Annie Tetnowski
Utilization Review Specialist
As our Utilization Review Specialist Annie is responsible for establishing contact with insurance and managed care organizations for pre authorization and concurrent reviews throughout the duration of a client's treatment stay. Annie assists the treatment team in understanding different requirements that various insurance companies have for admission, continued stay and discharge planning. Annie also assists our clients in getting health insurance and other benefits they may qualify for.
Annie has lived in the Mora area her entire life. She and her husband have two grown children and enjoy their grandchildren. She enjoys the outdoors and spending time with her family. Her compassion, empathy and experience enable her to help our clients with their decision to seek help at Recovering Hope and to help them begin their journey of recovery from addiction.
Nicki Miller
Daycare Director
Nicki is passionate about creating a safe, nurturing, educational environment for the children at Recovering Hope. Nicki works closely with the daycare staff and the counselors to provide support to mothers and children during their transition to Recovering Hope. Nicki works with Occupational, Speech and Physical therapist to provide those services to children within our facility.
Nicki's education includes an Associated Degree in Early Childhood Development, training for working with children with trauma and special needs along with continued professional development courses.